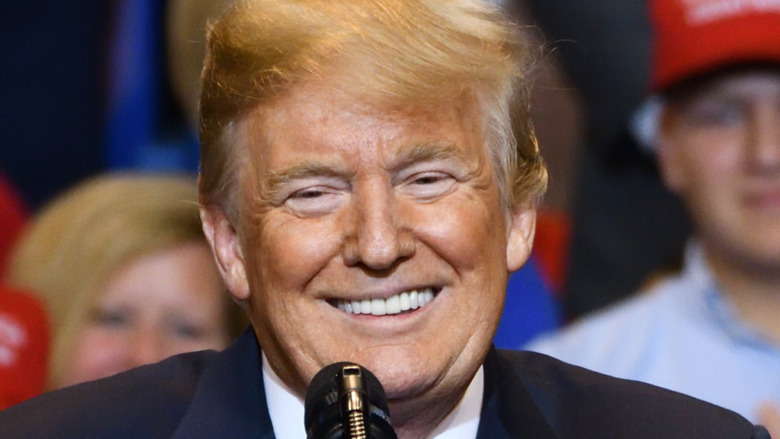 While many Americans might be focusing on President Joe Biden's first joint address to Congress on April 28, others are turning their attention to the president who came before him — and, more specifically, whether or not he will make a third bid for the Oval Office in 2024. Though Trump hasn't exactly confirmed whether or not he will actually run in 2024, the 45th commander-in-chief has certainly been floating the possibility in the months following his White House exit in January. As speculation continues as to whether or not he will launch a third campaign (if he's even allowed to, that is), the same time of scrutiny accompanying it is who Trump will pick for his election ticket.
Now, it looks like those closely following Trump's attempt at continuing his political career might be in luck. According to reports by outlets like Politico, a recent appearance on a Fox News podcast had Trump reaching into his cache of potential VP contenders and pulling at least one name for the picking. So who is Trump seriously considering to serve as his vice-presidential nominee if, indeed, he runs in 2024? Keep on scrolling to find out.
A possible Trump VP pick for 2024 is Ron DeSantis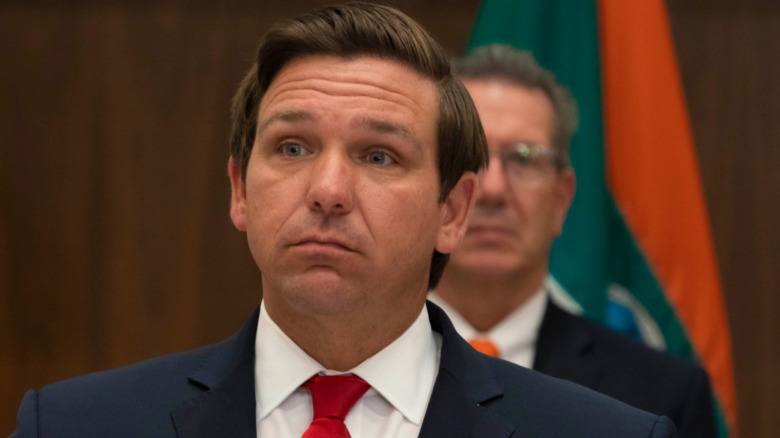 Since it looks like former Vice President Mike Pence is still out of Trump's good graces, it seems that he's looking at other potential running-mates out of the GOP party pool — and one possible contender is none other than Republican Florida Gov. Rick DeSantis. As Politico recapped, Trump mentioned the first-term gubernatorial head of the Sunshine state in an April 29 interview with Fox News anchor Maria Bartiromo. After calling DeSantis a "friend," Trump went on to claim that following Trump's endorsement of DeSantis in 2018, "he took off like a rocket ship," adding that in his opinion, "[DeSantis has] done a great job as governor."
In addition to lauding DeSantis, who Politico noted has continued to align with Trump's stance on lax restrictions throughout the ongoing coronavirus pandemic, Trump alleged that his voter base is wild about a "[Trump-DeSantis] ticket," giving credence to the consideration of bringing DeSantis on board in a 2024 reelection scenario.
While Trump's remarks about DeSantis might come as a surprise to DeSantis himself — per Politico, the governor's team has not publicly commented on Trump's public consideration, and DeSantis might be considering his own bid for the presidency in 2024 — it's not necessarily out of the blue. In March, Trump name-dropped the Florida governor during a podcast interview with Fox News' Lisa Marie Boothe, stating that he thought DeSantis had "potential" and could lead the Republican party into the future.