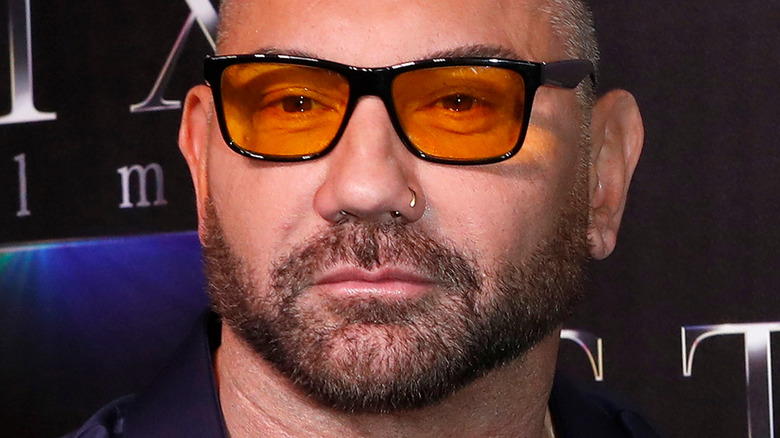 From professional wrestling to Hollywood, Dave Bautista is a man that can do it all. As one of the greatest professional wrestlers of all time, Bautista (under the tweaked surname of Batista) initially rose to prominence with his storied career in WWE — competing in matches against the likes of The Undertaker, Triple H, Shawn Michaels, and John Cena, while amassing six World Heavyweight Championships in the process (via WWE). Following a phenomenal in-ring career, Bautista then decided to hang up the boots and tackle ... Hollywood!
Following his transition into Tinseltown, Bautista acted in low-budget, direct-to-video films such as "Wrong Side of Town" and "The Scorpion King 3: Battle for Redemption" before landing his big break in 2014's "Guardians of the Galaxy" (per IMDb). Starring as Drax the Destroyer, Bautista quickly made a name for himself in the Marvel Cinematic Universe with his portrayal of the lovable, yet tragedy-stricken giant. Since then, Bautista has played Drax in a number of Marvel films, including the blockbuster "Avengers: Endgame."
On playing Drax, Bautista stated to Collider, "I can just relate to Drax so much it's not even funny ... Simple things like the tattoos, the tragedy — because you know, I had a bit of tragedy in my life as well. So it's really easy for me to pull from that." Indeed, Bautista did not achieve the success he has without adversity in his early days. With that said, let's take a look at the tragedy that changed Dave Bautista's life forever.
This incident from Dave Bautista's troubled childhood changed everything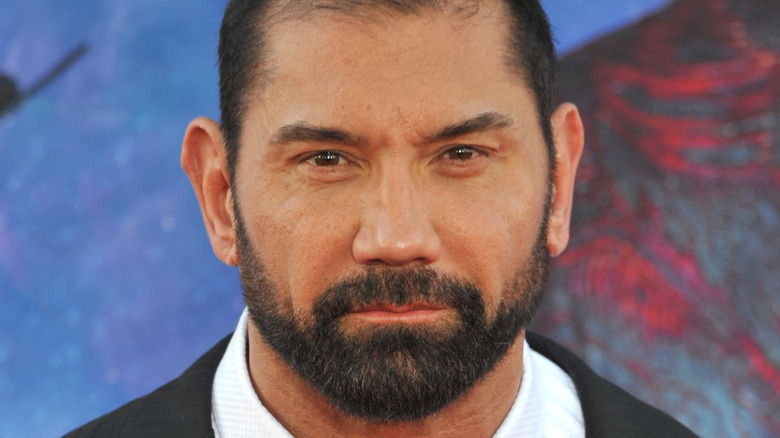 Despite his imposing frame, Dave Bautista did not earn his menacing looks without a few battle scars. In fact, the star had a tumultuous upbringing, characterized by economic hardship and a milieu of violence. In an interview with the Tampa Bay Times, it was revealed Bautista grew up amidst the crime wave that swept Washington D.C. in the 1980s. The outlet noted that as a child, Bautista once saw a man get beat up and almost thrown from the overpass from his doorstep, and also bared witness to his mom getting attacked.
Though those incidents were traumatic in and of themselves, there is one event that truly stands out from Bautista's terrifying childhood. One afternoon as Bautista, his sister, and a number of kids were blissfully playing outside, mother, Donna Raye, noticed something incredibly off — a dead body was lying outside their home. The police had been called after the unnamed man was shot to death, but unfortunately were taking too long to show up. Bautista, his sister, and the neighborhood children, however, had become so desensitized to death that the body did not even seem to faze them during playtime.
That was the moment where Donna Raye finally drew the line and soon moved her children to San Francisco, California in hopes of a better life. And while imminent death no longer was an issue, there were still more concerns that plagued the Bautista household at hand. More below.
Dave Bautista's mother's LGBTQ+ identity spelled trouble for them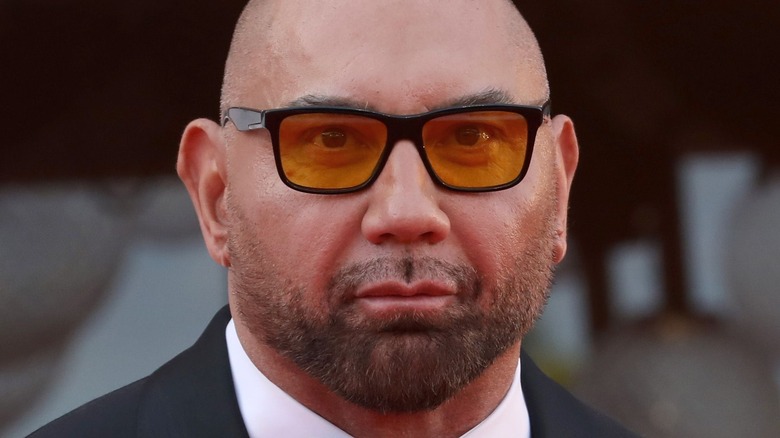 Dave Bautista, who is an unwavering Democrat, is not the only member of his family who leans left. His mom, Donna Raye, was also cut from the same cloth, as noted by the Tampa Bay Times. The outlet mentions the Bautista matriarch was brought up in a conservative, Greek-American home and was shunned for her leftist ideologies. On top of that, Bautista's mother was also open about her relationships with women, much to her family's chagrin. Despite such, the single mother in Donna Raye worked incredibly hard to support the young Bautista and his sister — moving them across the nation and developing photos at night to pay the bills.
The "proud son of a lesbian," as Bautista once wrote on Twitter, the wrestler-turned-actor revealed to the Tampa Bay Times that his father "never did anything for me," which led Bautista to develop a protective spirit over his mother. As a champion for LGBTQ+ rights, Bautista added in the same tweet, "[A]nyone who has issue w/ that can s*** my b****," and even called out boxing legend Manny Pacquiao once for espousing anti-gay remarks. In a scathing rebuke, Bautista told TMZ, ​​"My mom happens to be a lesbian so I don't f****** take that s***," and continued to bluntly tell the outlet he wouldn't put up with such remarks again.
Though Dave Bautista hasn't starred alongside Nicolas Cage in a big-budget blockbuster (yet), the wrestler-turned-actor is certainly our national treasure.