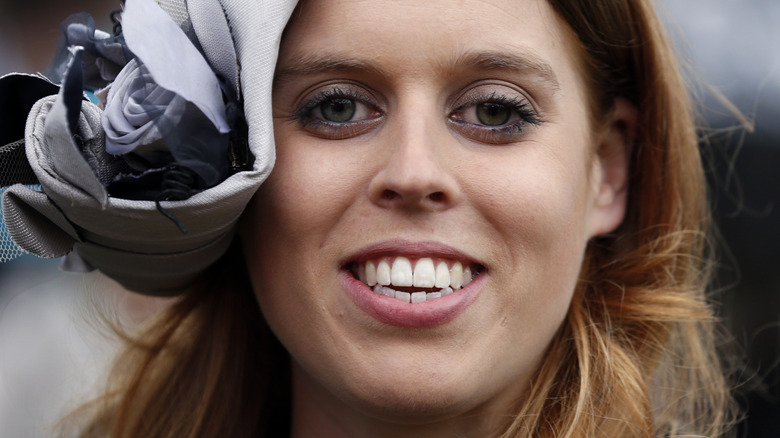 While she's known as the Queen of England to us, Queen Elizabeth II does hold another important title in her life, and that's grandmother. While it's hard for grandmothers (like most members of the family) to pick favorites, the Windsor matriarch is said to have an "exceptionally close" relationship with Princess Beatrice, per People. However, it did not necessarily start off that way. Despite her current affection for Beatrice, Queen Elizabeth apparently was not overly fond of the royal's original name.
According to The Mirror, when her son Prince Andrew and then-wife Sarah Ferguson welcomed their first-born Beatrice in 1988, they wanted to call her "Annabel." Per royal tradition, when Andrew and Sarah (also known as Fergie) approached the queen for an "informal chat" about the potential name, she reportedly called it "too yuppie" for a member of the British royal family. Instead, Queen Elizabeth suggested they call their baby girl Beatrice, a nod to Queen Victoria's youngest child (per Town & Country) ... And the rest is royal history!
But perhaps the queen's crucial input marked the beginning of her "strong bond" with her second-eldest granddaughter (per People) — which became all the more evident during Beatrice's wedding on July 17, 2020.
Queen Elizabeth leant Princess Beatrice an extra special tiara for her wedding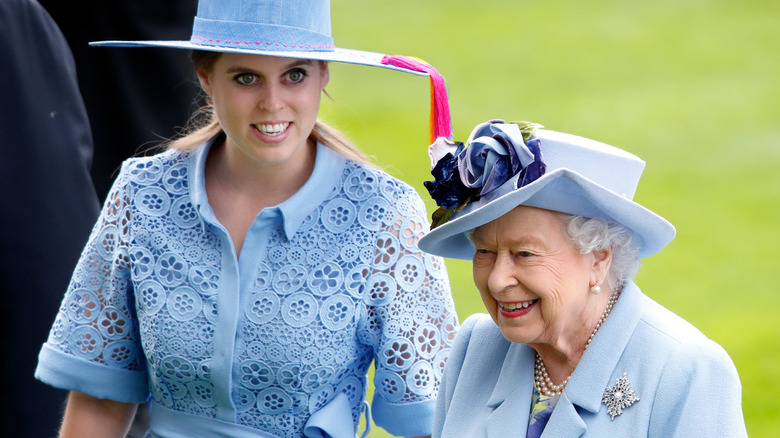 Being gifted family heirlooms of any kind is always special, but you know you are in the good books when you are provided with a "priceless" accessory, per New Idea. When Princess Beatrice planned her wedding to Edoardo Mapelli Mozzi, she decided to pay homage to her "granny" by wearing one of her old dresses.
Originally worn to the London premiere of "Lawrence of Arabia" in 1962, Beatrice repurposed her grandmother's diamante-adorned Norman Hartnell gown by adding organza puff sleeves. Apparently, the queen was so touched that she offered up the very diadem she wore to her own wedding to Prince Philip in 1947. The "Queen Mary Fringe Tiara" was also worn by the queen's daughter, Princess Anne, when she married Captain Mark Philips in 1973. A source told New Idea that "[a]llowing Beatrice to wear this piece is tangible proof of the high esteem she holds" for her. And clearly, the feeling is mutual, as Beatrice also ensured her new wedding date suited her "guest of honor."
Initially, scheduled for May 29, Beatrice's intimate wedding was scaled back and postponed to July 17 amid the pandemic. A friend of Beatrice told People, that the princess "talks about her grandmother often" and planned her wedding around her. "It was all about the Queen's schedule. The Queen was the guest of honor, and it was very important that she was there." Beatrice has previously called Queen Elizabeth II her "role model," so it's possible that, if she gives birth to a daughter this fall, she will honor Elizabeth via her name.