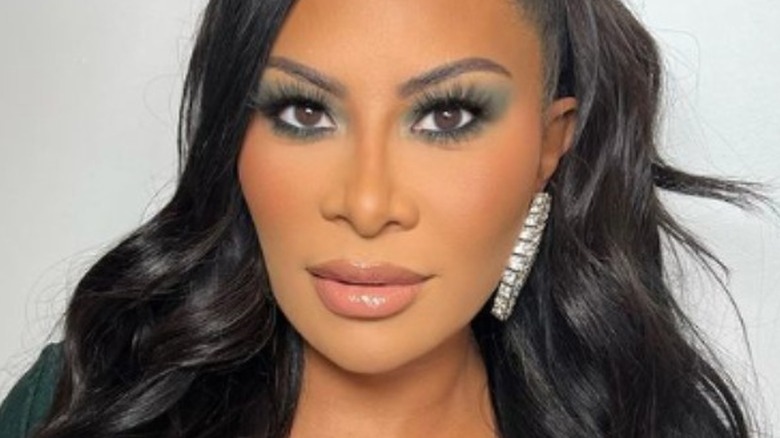 Jen Shah is in big trouble. The "Real Housewives of Salt Lake City" star and her assistant Stuart Smith were arrested in March 2021 for allegedly participating in a telemarketing scheme, per People. The two were reportedly in charge of gaining personal information from "vulnerable, often elderly, working-class people" and then selling their sensitive data as "lead lists" to others who were also in on the criminal ring so they could continue the cycle, according to a press release.
Shah and Smith were charged with one count of conspiracy to commit wire fraud and one count of conspiracy to commit money laundering. If found guilty, they could be facing more than 30 years behind bars. Despite the television personality's serious charges, Shah continued to double down on her innocence following her arrest. "I'm the only defendant left that is still going to trial," she said during an episode of "RHOSLC," via the Daily Mail. "I have no idea what is going on with the other defendants in this case. I have no idea why they have taken a plea deal," she continued. "I'm not going to take a plea deal when I'm not guilty. I'm innocent."
However, after much consideration, the Bravo star ended up pleading guilty exactly 11 days before her trial was slated to begin. Now, instead of steering clear from the spotlight while she waits to be sentenced next month, Shah has found herself in another messy situation.
Jen Shah captured in a heated dispute with strangers
TMZ released footage of Jen Shah repeatedly screaming "F*** you" in what appears to be a very heated argument with several people in downtown Salt Lake City. The outlet reported the quarrel happened sometime around 9:50 p.m. and at the time there was no word of what caused the altercation. However, a source close to the television star has since spoken out about what allegedly took place. According to the insider, Shah was reportedly exiting after enjoying dinner with some of her friends when "two strangers started hurling homophobic slurs."
A public dispute then ensued and that's when cameras started to roll on Shah's explosive nature. She later walked off while someone on the scene continued to yell and curse in her direction. The reality star is bracing for her sentencing which is slated to take place in New York on November 28. According to Vanity Fair, part of Shah's plea deal includes not appealing the judge's decision if her sentence doesn't exceed more than 168 months which in total adds up to 14 years.
She also has to cough up $6 million and an additional $9 million in restitution. "I just try to, like, not take anything for granted anymore and celebrate every single day, 'cause what if something happens and I am not here to celebrate it next year?" she said during an episode on "Real Housewives of Salt Lake City" (via Vanity Fair).